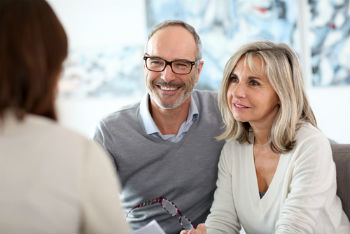 Moving is never an easy decision, even if it is for a good reason such as moving to be closer to family or downsizing. Leaving the home you've grown accustomed to and made memories in is hard, but purchasing your next home shouldn't be. As a Senior Real Estate Specialist - Assisting clients in finding the perfect home to build new memories while savoring those of the past is a huge part of what the right realtor will do for you...
Although this might sound obvious, there is a big difference between a realtor and a reliable, skilled realtor. You've likely seen ads for real estate agents just about everywhere you turn, so how do find the right one with the knowledge to assists in this new exciting time in your life?
Start by asking the agent in question for their credentials. Consider it a bonus if they are a Senior Real Estate Specialist (SRES), meaning they completed training to help senior homebuyers and sellers in the 50 plus age range. Ask the realtor to provide contact information for past clients, especially for properties that are similar to yours. Don't forget to ask how long they've been in business.
Linda's 24 years as a Senior Real Estate Specialist has not only given her the understanding of the special circumstances presented to Maturing Home Buyers but the knowledge base to assist in the most effective ways possible. It costs nothing - ZERO - as a home buyer to have her on your side, ask those questions that do not bring themselves to light during one of the most detrimental decisions you will make regarding your retirement years.
According to USA Today - Homebuyers approaching their golden years have become quite the force in the housing market.
This year, 38 percent of people purchasing a house were 55 and older, up from 35 percent in 2017 and double the share from 15 years ago, according to the 2018 Homebuyer Profile report from the National Association of Realtors given to USA TODAY exclusively. Nine percent of those homebuyers this year were buying a home for the first time.
Whether you're an older first-time buyer or this is your second go-around, a house purchase later in life comes with considerations unique to seniors.
Here is what you need to think about:
#1. Where is the cash coming from?
Many older homebuyers use the sale proceeds of a previous home to fund a new purchase without tapping other sources. But if you need money from elsewhere, be smart about where you get the funds.
If you use retirement savings, make sure you're old enough to avoid incurring a penalty for early withdrawal. In some cases, you may be exempt if you're a first-time homebuyer.
If you take from regular brokerage accounts, don't forget about the tax consequences.
According to Peter Palion, a certified financial planner. If you cash in $100,000 worth of stocks, the next year, you owe $20,000 in taxes. That's not the kind of surprise you want.

#2. Do you plan to age in place?
Think carefully if the home you plan to purchase will meet your needs five, 10 and 20 years down the road when your health changes.
Do you expect to have live-in care at some point? Then, the house should be able to accommodate another person. Or, consider buying a condo, a more affordable and easier-to-maintain option,
"People tend to be flippant about how they are going to be at 75 or 80," says Terrence Herr, managing partner of Herr Capital Management in Chicago. "They discount the potential health and mobility issues."

#3. Can you afford the expenses long term?
Consider whether your retirement savings and expected withdrawal rate can support a mortgage payment, if you take one out.
A fixed mortgage payment appeals to many homebuyers who worry increasing rent could become a burden in later years.
Don't forget to add in costs for property taxes, insurance, home association fees and maintenance, especially if you expect to someday outsource regular upkeep like mowing the lawn or shoveling snow.
Can you swallow these costs along with others that crop up later in life, such as higher medical expenses? Be conservative, advises Herr. "If a home purchase turns out to be a poor financial decision, you simply don't have time to recover from that," he says.